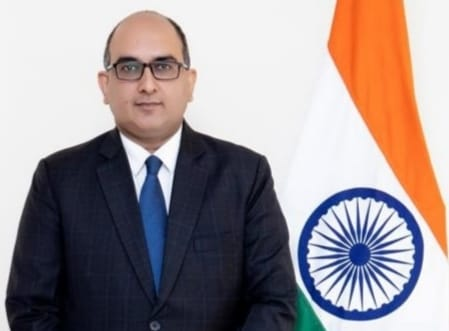 Ambassador of India to Qatar, Mr. Vipul
Mr. Vipul joined the Indian Foreign Service in 1998. He has served in Indian Missions in Cairo, Colombo, Geneva and Dubai. In his diplomatic career, he has dealt with diverse areas, including political and commercial relations, development, disarmament, international security and media.
Mr. Vipul worked as Director/Joint Secretary with External Affairs Minister of India between 2014-2017. Subsequently, he was Consul General of India in Dubai between 2017-20. He worked as Joint Secretary (Gulf) in Ministry of External Affairs from 2020-2023.
He presented his credentials as Ambassador of India to Amir of the State of Qatar H.H. Sheikh Tamim bin Hamad Al Thani on 17th August 2023.
Mr. Vipul graduated in Mechanical Engineering from Indian Institute of Technology, Delhi in 1994. He also holds an MBA degree from Indian School of Business, Hyderabad.
******